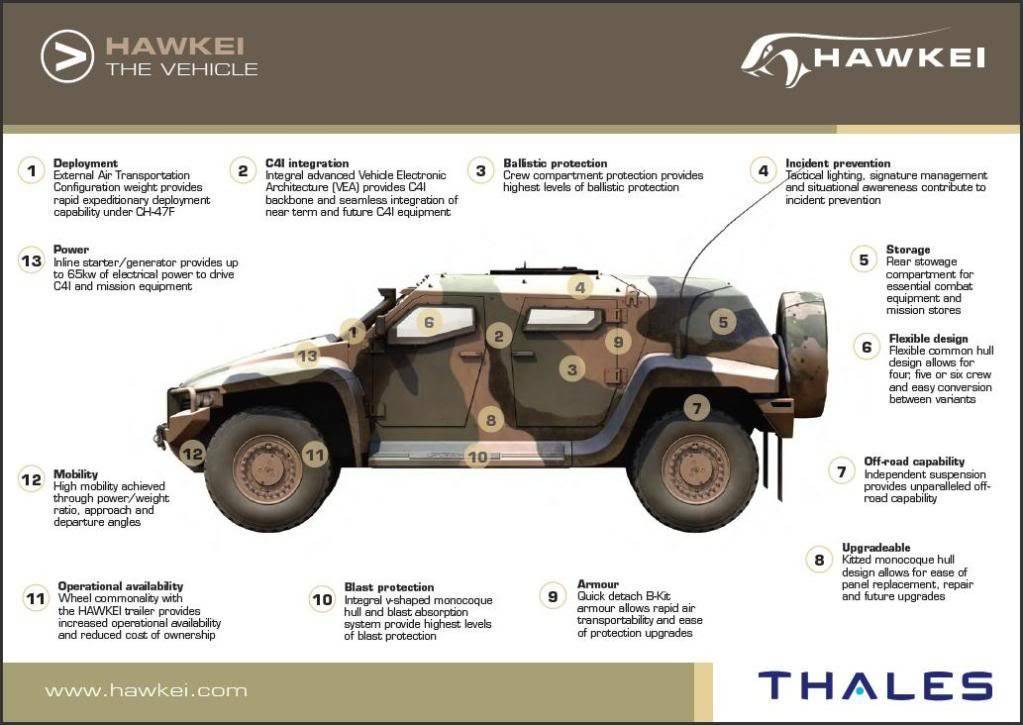 Thales' Hawkei Light Protected Vehicle is set to equip the Australian Army, according to a government statement made on 12 December 2011.
The Hawkei has been chosen to meet the Australian Army's future LPV (Light Protected Vehicle) requirement, which calls for as many as 1,300 Land Rover replacements.
Programme funding now to come from the Australian government will be used to further enhance the Hawkei design, which has recently completed a series of operational evaluations. During these trials - which saw the LPV driven a total distance of 40,000 kilometres - several design features were evaluated, including its resistance to roadside bombs.
Thales has so far worked with many other defence firms on the Hawkei - PAC Group, Boeing, Plasan and a host of Australian companies among them.
Thales Hawkei LPV
A 4x4 vehicle, the Thales Hawkei LPV weighs seven tons, accommodates six troops and is intended as a support platform for future battlefield C4I (Command, Control, Communications, Computers and Information) scenarios.
Its modular construction allows it to be modified according to specific mission requirements and it can travel at up to 100 kilometres an hour, over a distance of more than 1,000 kilometres.
The Thales Hawkei made its public debut at the 2010 Land Warfare Conference in Brisbane, at which point it had already been extensively tested and assessed.
Australian Army Hawkei Order
The Australian Army Hawkei order announcement was made to media representatives by Stephen Smith, the Australian Defence Minister. Simultaneously, he confirmed a separate contract, placed with German firm Rheinmetall MAN, for a maximum of 2,700 armoured vehicles of various types. Thales was in the running for this contract, too, having put forward its Bushmaster range for consideration.
"[It] will be a contract negotiation, building some more prototypes for assessment and testing, and then contracts will be finalised", MP Steve Gibbons told ABC Central Victoria of the Thales Hawkei deal, adding: "I've got every confidence in Thales being able to do that, but there is a lot of work still to be done."
Image copyright Thales
General information
The Thales Hawkei is a light wheeled protected vehicle buit by Thales on its significant experience with the Australian Bushmaster program to design this next generation vehicle. Drawing on both international and local expertise provided by Boeing, PAC Group or Plasan, and numerous Australian Small and Medium-sized Enterprises (SMEs), the vehicle's design incorporates world-leading innovative technologies. The Thales Hawkei was designed within the framework of a modernization of light wheeled vehicles used by the Australian Army. The Hawkei is currently being submitted for the Australian Department of Defence's LAND 121 Phase 4 program, which will provide a Light Protected Vehicle to replace the Australian Army's Landrover fleet. Following the tradition of the Bushmaster, which is named after a deadly pit viper, the new addition is named after a stealthy species of Death Adder – Acanthophis hawkei – which is native to Australia. The new ground-breaking design meets emerging performance and capability requirements, including systems that allow the Hawkei to become a fully integrated node on the network centric battlefield. The Hawkei is designed to accommodate the future system demands of adaptive campaigning, with C4I (Command, Control, Communications, Computers and Intelligence) capabilities as fundamental part of its DNA. An engineering mock-up of the Hawkei will be on display at Armoured Vehicles Australia in November 2009 (AVA), highlighting its internal seating layout and ground-breaking design.
Variants :
Prototype. .
Technical data
Armament
The Hawkei can be fitted with a remote controlled weapon station armed with weapons up to 12,7 mm.
Protection
The 4x4, 6-crew, 7-tonne Hawkei provides unparalleled situational awareness, lethality and survivability for a vehicle its size. The Thales Hawkei is a mobile, versatile, and above all well-protected vehicle. It incorporates high levels of blast and ballistic protection in a light, highly manoeuvrable and readily air transportable vehicle that has been engineered for peak performance. A systems approach to vehicle protection includes high levels of mine blast protection integrated into the Hawkei's hull design, while its adaptable ballistic protection technology is designed to be easily removed for air transportation and then refitted by a two-person crew in less than 30 minutes without using specialised equipment. This innovative design allows the Hawkei to be operated in full protection configuration that can then be reconfigured and upgraded for specific mission threats.
Propulsion
No information at this time.
Accessories
The Thales Hawkei can be airlifted by a C-130 Hercules transport or other standard cargo aircraft.
Specifications
Armament
Remote controlled weapon station
Country users
Australia prototype
Designer Company
Thales
Accessories
No information at this time.
Dimensions.
No information at this time.
Armor
No information at this time.
Weight
7,000 kg
Speed
100 km/h
Range
No information at this time.
Crew
6 soldiers